Our Services...
Our Boarding Kennels offer many services built into our one accomodating price.
Basic Kenneling Service
Our basic service includes all this:
Your dog will have his own large, private, sanitized run - Either 4'x10' or 5'x13'. You're welcome to bring along any toys that will make your dog feel "at-home." For our smaller guests we can offer boarding in our home (with their own separate play area).
Three exercise sessions a day.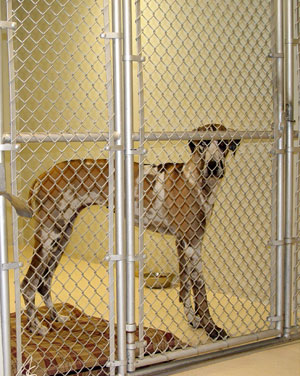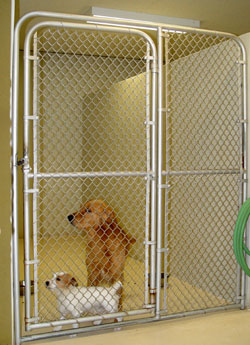 Fred and Haze wating for their turn for playtime in the park.
Meals per your dog's needs - Because ours is a home-based kennel, which means that we are available at all times, we can feed your dog on his/her regular schedule, just as you request.
We proudly offer Eukanuba and Iams dog meals - or you can bring your dog's dietary food supplies along. We have a refrigerator if you need it.
Medication administration - If your dog requires any special medications, we will happily manage it for you during his/her stay, at no extra charge.
Complimentary Beauty Bath - If your dog is staying 8 days or longer, a complimentary wash & brush is given. This includes a conditioning shampoo, as well as a thorough brush-out and dry.
The cost?
Kenneling - Prices for small to middle-sized are from $35.00 to $38.00 per dog. Small and middle-sized guests have their own playground included in their daily charge.
Medium guests are $41.00 and large guests are $45.00 per dog. Medium and large breeds also get one 1/2 hour playtime in the park included in their daily charge. Prices listed above include housing, playtime, food (we provide Eukanuba) and tax per calendar day.
Salon Services- If you prefer additional washing of your dog (as described above), it is $10.00 to $20.00, depending on your dog's size and type. Nail trims are $10.00.
EXTRA * EXTRA * EXTRA
For our medium to large guests we have a 1/3 acre dog park, all fenced in, that they are able to run and play in with our son Tyler or our daughter Kortney. This service can be provided for an additional $3.00 per dog for each 1/2 hour. For our small guests, we have a playground specifically for them and the cost is $1.00 per day in addition to boarding fees.
Accepted forms of payment:
We take cash, checks or travelers checks. We do not accecpt credit cards.
Prices updated 11/2/11.

Buddy & Casper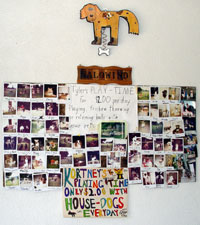 Pictures of Tyler and Kortney's playtime friends.

Kortney and friends.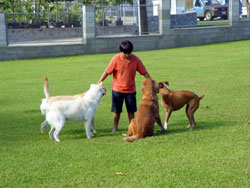 Tyler and friends.
We do our best...

to provide your pet with a clean, safe and loving environment. We ask that you help us out by informing us of any problems your pet may have (i.e. medical needs; special dietary needs, etc.). We would also appreciate if you inform us about any personality traits that we should be aware of (i.e. fearfulness, anxieties, able to scale an eight-foot fence, etc.).
Guest requirements
We require a written certificate of all current vaccinations. Our requirements are that Distemper, Parvovirus, Hepatitis and Leptospirosis* (*Leptospirosis is optional) vaccinations have been given within the past 1 to 3 years. (Proof of vaccination titer test is also acceptable.) Bordetella (kennel cough) is required within 12 months of boarding date, no exceptions. If you're not sure your pet is properly immunized please call us and we will be glad to help answer your questions.
Parasite free (no fleas or ticks)
Must have had a bath within 24 hours of arrival at Nalowinds Kennels. If you'd rather we bathe your pet upon arrival, we can do so for an additional $10 to $20 per dog (depending on size)
Have all personal items labeled with guests name (i.e. - blankies, toys, food, treats)
We want everyone to be healthy and external parasite free. Your dog will be thoroughly examined for ticks and fleas during check in. If any are found, we will make recommendations as to how this can be corrected. We will gladly offer our services to help make your dog as comfortable as possible. Infested dogs are not allowed in boarding.
Veterinarian on call 24 hours. Your pet will be taken to his or her own vet if possible.
If your pet has a contagious disease, please keep him or her at home or at a veterinarian clinic. You are certainly welcomed to call us and we will be happy to assist you in determining the best accommodations for your pet.
Click here to download a copy of our Boarding Contract.