Our Kennels...
Nalowinds is rated as one of the top kennels in the State of Hawaii. We have created easy-to-clean, large runs that include sanitation systems and complete drainage, to assure your dog ease of movement, and a dry, clean environment. We never put your dog in a kennel "crate!"
Our runs are available in two roomy sizes - 4'x10' and 5'x13'. Each run is equipped with automatic waterers, so that your dog has fresh water available at all times.
Our air-conditioning system is state-of-the-art, and maintains a constant 75 degrees as well as low humidity. This establishes stable air quality that inhibits mold, bacteria and fugus growth. Furthermore, ours is a "fresh-air" system, avoiding the bacterial problems associated with recirculated air.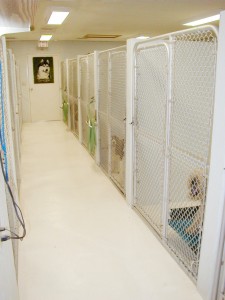 Our spacious runs are clean, bright, and air-conditioned.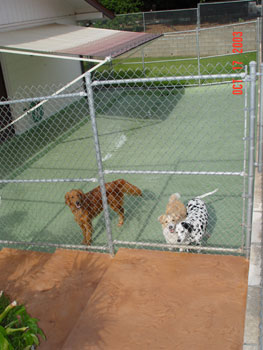 Clean, sanitized exercise areas are provided, and are washed between dog use.
We have separate, expansive exercise areas for large and small dogs.

Our exercise areas are thoroughly washed after each dog, and are equipped with the proper drainage required to make sure that when your dog uses the areas, they are safe, clean and ready for him.
Small House Guests...
We are proud that we are able to offer close attention to the smaller dog. Toy breeds often find it difficult to be separated from their owners, and we make sure that your tiny canine finds comfort with our family while you are away. So to ease your comfort level, we offer boarding in our home with a separate play area for those guests.
Of course, larger dogs need special "hugs" too, and we gladly provide them!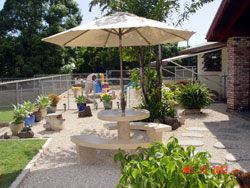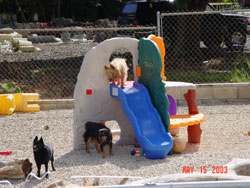 We've added new equipment to our playground for our guests.