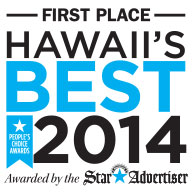 Welcome...
to our Website and to Nalowinds Boarding Kennels. At Nalowinds, we know that your dog is a cherished member of your family. We know that you want the best for your dog while she is away from you. We offer large, air-conditioned runs and an outdoor exercise area. There is also a playtime park (15,000 sq. feet) for the dog(s) who want the big extras.
We welcome your dog to our family...

Wayne & Bonnie Duarte
Telephone:
808-259-7349
Fax:
808-259-0839
41-502 Flamingo Street
Waimanalo, Hawaii 96795
Business hours:
Mon.-Fri. 7a.m.-5p.m. (Hawaii Standard Time)
Sat. & Sun. (weekends) 7a.m. to 12 noon (Hawaii Standard Time)
For pickups on weekends after 12 noon, you must make prior arrangements with us.
Tours with canine kids are given on Saturday or Sunday mornings by appointment.